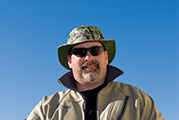 Location: Christchurch, New Zealand
What kind of websites were you planning to build?
My website is intended to show a sample of my stock photography and to point potential buyers to the agencies where they may be licensed.
How did you hear about Sandvox?
I just googled for a Mac website building tool. Reading the reviews I found, narrowed it down to Sandvox or Dreamweaver, which was far too powerful and expensive for my needs.
What made you decide to get Sandvox?
The pro version had the features I needed, but without the cost associated with Dreamweaver.
What would be a good way to search for a program like Sandvox?
---